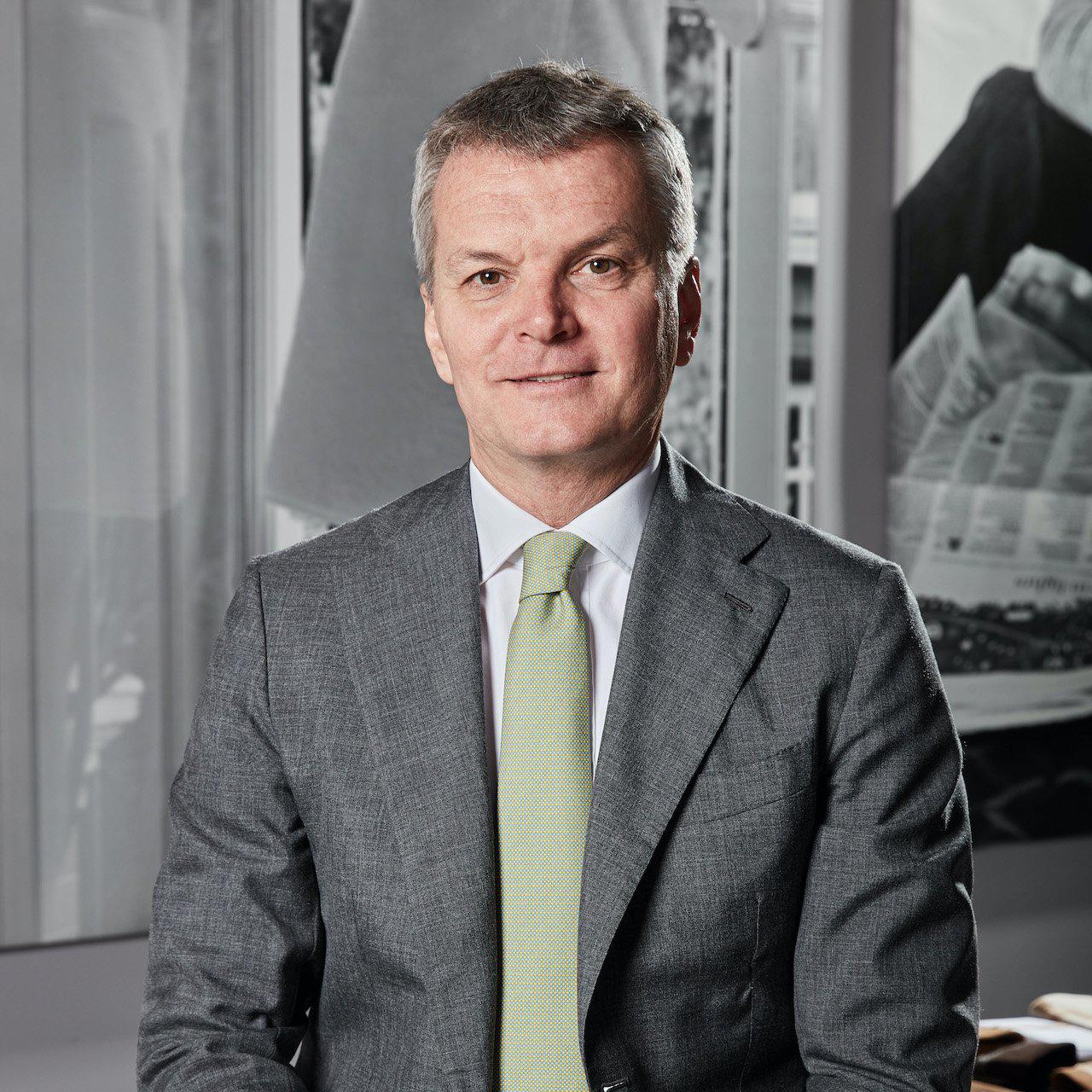 An interview with Frette CEO, Filippo Arnaboldi
Nothing quite compares to jumping into a bed of fresh, crisp sheets. When those sheets are Frette, then the experience is even more sublime. There is good reason why dynasties of Italian Royalty insisted on Frette sheets and evidently explains why some of the world's most illustrious hotels, yachts and aircrafts across the globe are fitted only with Frette. 
There is unique, inimitable quality to Frette which makes it unparalleled in its category. Patented in 1903 for its unique finishing and signature soft, shiny texture, they are the leader in linen craftsmanship. Celebrating 160 years in December 2020, the Frette range now includes homewares and outwear.
We are thrilled to have the range join the Palmer & Penn stable. Chosen for their purposeful and timeless designs, the brand has been carefully curated to suit a discerning lifestyle.
To introduce you to the amazing world of Frette, meet CEO, Filippo Arnabold. 
Hello! Ben Palmer, owner and curator of Palmer & Penn. We are so excited to welcome you into the store. To introduce people who aren't familiar with your brand, can you tell us what are the key characteristics of Frette sheets which makes them so unique? What can you tell the Palmer & Penn customer about the craftsmanship involved with Frette sheets?
Frette linens are celebrated from their chic, original designs and inimitable finish and feel. To achieve the soft, lustrous look and feel of our products, we use the finest fibers, including extra-long staple cotton, cashmere and silk, and collaborate with the most skilled Italian artisans who follow a precise signature method to craft our products. Our collection ranges from intricate jacquards and delicate laces to complex embroideries and sumptuous cashmere velvet, all of unparalleled quality. 
Which are your classic and most popular styles?
While we consider Doppio Ajour and Bicolore two of our tried and true classics, both crafted from soft and supple cotton sateen, we have recently seen clients gravitating towards some of our newer styles.
For example, Chains and Links Embroidery feature an iconic and striking chains motif that feels simultaneously timeless and contemporary. We've seen clients incorporate this design motif into their living spaces with decorative pillows and accent throws.
Additionally, jacquards are in Frette's DNA and our silk-blend jacquards are unparalleled in their beauty. They are not only intricate, but also luminous, which makes them the ultimate statement pieces for a bedroom. The Glowing Weave collection has quickly become a favourite amongst clients.
Who is the design team behind Frette?
We have an incredibly talented product development team who keeps a constant pulse on interior design trends and colors-of-the-moment to refresh our foundation of timeless pieces each season with new colorways or design motifs that will seamlessly pair back to our assortment. 
Do you think customers taste in bedding has changed? If so, how?
Tastes and preferences truly vary across the different countries and cultures we serve globally. However, we have found, especially more recently, that regardless of personal tastes, clients are seeking out high-quality products that will last over time. We have developed a strong foundation of timeless motifs that have been meticulously designed and crafted from the world's finest materials to accompany our clients in their daily lives for many years.    
With such a storied heritage, how is Frette reaching new, younger audiences?
An omnichannel marketing approach is critical to the success of Frette, expanding our reach to new and younger audiences. While many of our clients typically prefer a more personal, private in-store or virtual experience, we are simultaneously nurturing a younger generation of clientele that is discovering us and making purchases digitally. We achieve visibility through a variety of means, such as dressing model units in some of the most desirable real estate near our boutiques, digital advertising efforts, collaborating with our hotel partners and ensuring we are on the appropriate, relevant social media platforms. 
How important is your Italian heritage to Frette?
Frette's storied heritage is rooted in a commitment to unparalleled quality and fine Italian craftsmanship. We're proud to have been featured everywhere from the altar of St. Peter's Basilica to the dining cars of the Orient Express – and, more than 500 royal families have slept beneath our sheets. While we're constantly seeking to innovate and evolve as a brand, we will always remain true to our roots.
How does Frette stay relevant in the face of new luxury bedding companies?
We're the experts in luxury linens, having honed our craft for 160 years. To stay relevant, we strategically evolve our product offering and expand our services to meet the ever-changing tastes of the modern consumer.
When it comes to product development, we have a strong foundation of iconic timeless products, which are refreshed every season with new colorways and design motifs, always working together seamlessly. Our collections are thoughtfully designed to accompany our clients in their day-to-day for many years. We believe that long-lasting, season-less luxury products will be more and more appealing to not only younger, but also older generations. 
Finally, we continue to build upon the tailored, personalized experience our colleagues around the world consistently deliver, both in-store and digitally whether it be through private in-store appointments or virtual ones conducted through video, phone, email or WhatsApp. 
Why do you think Frette has been the appointed linen brand for so many Royal families in its history? 
Since 1860, Frette has been committed to providing clients with high-quality, long-lasting products as well as an unparalleled level of service. It is this combined with our unique ability to craft bespoke items for our clients that we believe Frette has been the chosen linen brand for so many notable families.
Through our bespoke services, completely custom projects are produced with the same high standards as all Frette products, designed especially to meet individual needs whether they be monogramming, incorporating a specialized design or emblem as well as producing custom sizing for a yacht or private jet.
Frette has diversified into perfumes and loungewear. Why did you choose to diversify when your core product is so strong?  
We are experts in luxury linens, having honed our craft for nearly 160 years. But, Frette is more than luxury linens – we are a luxury lifestyle brand that our clients can experience in many aspects of their life. While we have crafted loungewear for women and men for decades, we recently began to transition beyond the bedroom and bathroom to offer clients accent pieces for the home, such as throws, decorative pillows as well as home fragrances. With these pieces, clients can incorporate comfortable, elegant touches throughout their homes.
Where do you see Frette in 10 years time?
We envision Frette continuing its transition from a luxury linens brand to a luxury lifestyle brand, bringing comfort to our clients wherever they go.
Frette's storied heritage is rooted in a commitment to unparalleled quality and fine Italian craftsmanship. As we weave our path forward, we'll continue to evolve our product offering and expand our services to meet the ever-changing tastes of the modern consumer while always remaining true to our roots.
Are there other product categories which Frette is considering in the future?
We are always seeking to innovate, thoughtfully expanding our product offering so that Frette may accompany our clients in the daily life. Earlier this year, we sought to elevate the sleep experience and introduced our first collection of three hand-crafted mattresses at Bloomingdale's in the United States in collaboration with leading mattress designer and manufacturer Shifman Mattress Company.
Though we cannot share too much at this time, next season we will be introducing a few new beyond-the-bedroom pieces that are particularly exciting.
Has the move toward online shopping been a challenge for your customers? Do you find it harder to educate new customers around luxury products this way?
We've been focused on growing our digital presence and, over the past few years, e-commerce has become our largest, round-the-clock global storefront, accounting for a significant and growing percentage of our business. With an even greater emphasis on digital recently, it has been important to us to keep the personalized service for which Frette's boutiques are known.
Our Virtual Styling Studio has satiated the appetite for a tailored experience and offered support to clients who are less comfortable shopping online. Clients can connect in real-time with a Frette Specialist who will work hand-in-hand with them by video, phone, email or WhatsApp to reimagine their space, proposing creative solutions and products, all complemented by a human, personal touch.