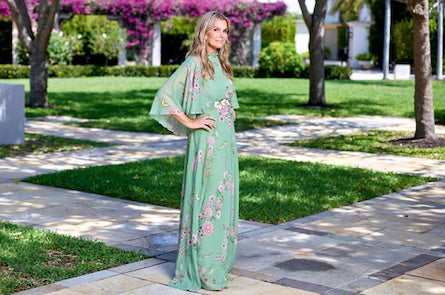 The Aerin Lauder Collection
If there is one thingAerin Lauder knows how to do, it's make women feel beautiful. The granddaughter of cosmetics icon Estée Lauder, Aerin has taken the world by storm with her eponymous lifestyle brand. From fashion and beauty to home décor and beyond, Aerin's unique perspective has won her legions of fans around the globe. Here, we will take a look where she started, some of her most iconic moments, and find out what inspires this extraordinary woman.
Aerin Lauder
Being the granddaughter of the world renowned beauty icon Estée Lauder, Aerin Rebecca Lauder Zinterhofer, has beauty and design in her DNA. Aerin was born and raised in New York City, constantly exposed to the world of business and beauty. Naturally, she took an interest in glamour and beauty, studying the techniques her grandmother would use with her make up - even applying her own lip gloss before school.
In 1991, she graduated from the University of Pennsylvania with a communications degree and dreams of either joining the family business or working for a fashion magazine. A year after graduating, she began working for the Estee Lauder company in the Prescriptives marketing team. She was later promoted to 'Director of Marketing For Prescriptives' in 1995, then became 'Creative Product-Development Director' in 1997, where she was responsible for the creation of seasonal palettes for lipsticks, makeup and the concepts of seasonal fragrances.
In 2001, she was promoted to 'Executive Director of Creative Marketing' and later promoted to 'Vice President of Global Advertising'. Aerin played an integral role in navigating the company through economic distress and uncertainty, as the brand was losing its top position in cosmetics due to an ageing company image and core customer base.
Within 2 years, Aerin successfully revitalised the brand by aligning it with modern beauty standards all the while being true to her grandmother's fundamental values. In 2003, the Estee Lauder company experienced an 8% increase in sales, 20% increase in earnings and $5 billion in sales for the first time in the company's history. Her success is attributed to her past experience in the company's marketing department, fresh and young outlook and her desire to showcase her abilities as a business woman and not just an heiress to the family business. 
Following a prosperous 25 years at Estee Lauder, the 52-year-old followed suit in her grandmother's footsteps by launching her eponymous luxury beauty lifestyle brand AERIN in 2012.Aerin Laudercontinued to serve as a board member of her grandmother's company until 2016 and maintains her role as Style and Image Director for Estée Lauder.
The Aerin Lauder Brand
AERIN is now an international brand that offers a variety of cosmetics, perfumes, fashion and furniture collections that celebrate Lauder's interest in art, travel, fashion and design acros 45 countries.
In a previousinterview with our team at Palmer & Penn, Aerin Lauder stated:
"I thought there was a void in the market place for a beauty lifestyle brand based on storytelling, feminine elements, heritage and quality. It was an interesting time to explore the concept.  I realised that when the modern woman thinks about beauty, she wants more than just a fragrance and a compact. She sees beauty as an extension of herself, her wardrobe, her home, her travels and her family. Therefore, AERIN is based on the concept that beauty and home should live together." 
Aerin's own lifestyle serves as a focal point of inspiration for the brand, allowing the brand to maintain authenticity, creativity and femininity with a sense of ease and timelessness.
However, what truly sets AERIN apart from other lifestyle brands is the dedication to perfecting even the smallest of details across the product range. Every product has intention and purpose driving its design and production. 
FromAERIN dinnerware, to AERIN furniture or AERIN home decor,Lauder is involved with every step of the way. She is even involved in the concoction phase of her fragrances where she meticulously describes the inspirations behind it. Lauder believes having her name on every product is what drives her perfectionist nature and motivates her to ensure every product is of the highest quality.
Products & Collections
The AERIN label product range includes over 20 fragrances, home fragrances such as candles, bath and body products such as body and hand creams and skin care as well as makeup and skincare products.
Some popular collections include the 'Luxurious Gold Collection', the 'Rose Bath & Body Collection', the 'Mediterranean Honeysuckle Eau De Parfum' and the 'Cedar Violet Eau De Parfum'.
As the brand grew, you could findAERIN home decor and home accessories that revolutionised the industry. All theAerin Lauderpieces boast an artisan, classic and contemporary feel with uniqueness and functionality at its core.
Some popularAERIN home decor and AERIN furniture collections include the 'Chocolate Shagreen Collection', the 'Palm Beach Collection' and the 'Hamptons Collection'. Each collection offers products to transform any room in your home to the next level.
AERIN has released anew season collection that includes gorgeous Italian madevases,candleholders,bowls,serveware,photo frames andboxes to suit a variety of styles and tastes.
Our Favourite AERIN Products
AtPalmer & Penn, we stock an exclusive and extensive range ofAerin Lauder homewares, furniture and furnishings that can be sent anywhere in Australia including the new season collection. Some of our favourite products from AERIN's new season collection include;
Calinda Moon Vase - This hand-thrown round vase has been enhanced with sgraffito, a vintage Italian ceramic technique which scores artisanal patterns to reveal the underglaze and is finished with reactive glazes to add a textured, natural look. A bold statement piece adds character to a table arranged with full blooms such as hydrangeas.
Cosmos Porcelain Flower - This hand-sculpted porcelain Cosmos flower captures the fragile beauty of a full bloom atop verdant leaves. Meticulously painted by skilled artisans, this realistic objet is an elegant addition to a vanity and is an ideal gift for a loved one.
Piero Leather Frame - This contemporary frame combines the luxury and texture of Italian leather with the warmth of gold detailing. Perfect for gifting, it offers an elegant way to display a favourite family photo or a small piece of art.
Allette Serving Bowl - This handcrafted ceramic serving pedestal is enhanced by a ribbing effect created by the potter's own hand. It has a pure, artisanal look, and is versatile enough for daily use or to add character to a table setting when entertaining. Ideal for serving pizza and cakes.
No matter what you are looking for whether it is
AERIN dinnerware, AERIN furniture or AERIN home decor,
we have the products and collections that you will adore, simply view the
Palmer & Penn
collection online or visit our
Double Bay Boutique
where our friendly and knowledgeable staff can help you find the perfect
AERIN
piece for your home.